MLSD Learning Services Center gets new landmark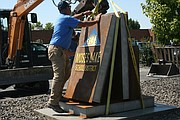 MOSES LAKE — The entrance to the Moses Lake School District Mastering Services Heart is now identifiable by a stack of publications. Okay, not true books, but a e-book sculpture built by students at the Columbia Basin Technical Skills Centre.
"It's really great-searching, isn't it?" previous MLSD Board Member Vickey Melcher stated.
The metal statue was set up Monday afternoon though an interested audience of MLSD personnel watched. A crew from Miers Development, Moses Lake, moved the sculpture into spot.
Melcher said the undertaking began when the district offices moved from their former spot on Ivy Avenue.
The sculpture depicts two publications leaning in opposition to every other and sitting on a 3rd book. Former MLSD administrator Dave Balcom claimed the design and style was a collaboration between competencies middle learners, instructors and previous MLSD superintendent Josh Meek.
"We commissioned it, and then COVID hit," Melcher said.
That set a delay in receiving the sculpture completed.
"The timeline was developed to be substantially more rapidly," Balcom stated. "No pun, but all those guides acquired put on the shelf."
The delays intended different lessons labored on the challenge above the house of a few of many years.
"A sequence of classes, definitely," Balcom claimed.
Some of the students who initially worked on the challenge had graduated by the time it was concluded, Melcher reported.
Even with the delays, abilities center pupils held operating on the undertaking, Balcom mentioned.
"They under no circumstances dropped that concentration," he mentioned. "Their perseverance is pretty awesome."