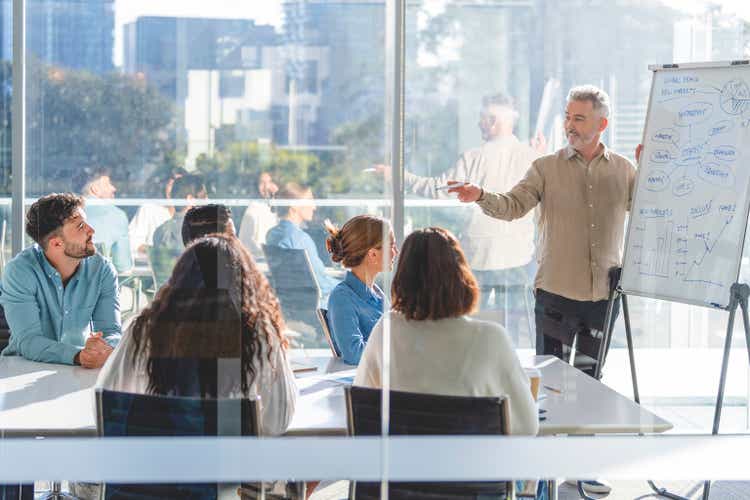 Investment Thesis
RCM Technologies Inc. (NASDAQ:RCMT) has outperformed the market with triple digits in the previous year and YTD, experiencing an 85% share price gain during Q2 2022. The stock has been on a downward trend since June start, losing about 40% value in these 2 months.
As a cyclical stock, RCM rides with the ups and downs of the economy, and a down-trending economy will likely reflect in the company's performance, as evident from the recent trend dictated by recessionary pressures.
There appears to be ample opportunity for the company to grow its operations, especially in its healthcare segment in the wake of the pandemic and the engineering segment with the growing alternative and renewable energy markets. Additionally, counter to intuition, small caps tend to outperform the broader market during the second half of a recession, making this a suitable environment for investment in a small-cap company.
Risk-averse investors would benefit from staying away from cyclical stocks in the prevailing market conditions and investing in inflation hedges. In contrast, investors who can stomach the volatility of a down-trending economy on a cyclical stock are likely to benefit from long-term capital appreciation through investing in RCMT.
The Company
RCM Technologies is a single-source business and technology solutions provider with a vertical focus on an integrated suite of services through a global delivery platform.
The company provides project management and consulting services through three segments; Engineering, Specialty Health Care, and Life Sciences and Information Technology (LS&IT).
The Specialty Health Care segment accounts for about 64% of the company's revenue, followed by the Engineering segment's 24% and LS&IT's 12%. Each segment reported YoY revenue growth of 147%, 38%, and 84%, respectively.
The Specialty Healthcare Segment
This segment engages in long and short-term staffing and placement services, serving hospitals, schools, long-term care facilities, etc., and performing staff augmentation services. It accounts for about two-thirds of the company's total revenue and more than doubled in the MRQ compared to Q1 2021.
The segment's revenue originates through hourly billing, based on fixed contractual rates. This would incline one to think that RCMT can safely navigate the recession if it has enough long-term contracts. However, given that most of the company's contracts have a clause allowing its clients to terminate the contracts based on 60 or 90 days' notice, recessionary pressures on the economy may result in terminated contracts, straining the segment's revenue.
However, one can expect more growth in this segment in the upcoming quarters, considering the company's penetration in the schooling market. The healthcare segment has generated 79% of its revenue from school clients, exhibiting 66% YoY growth.
There are almost 131 thousand schools in the United States, including 26,727 high schools and 87,498 elementary schools. The US Department of Education budget for the fiscal year 2022 includes $1 billion for a new School-Based Health Professionals grant program to support doubling the number of health professionals in schools, indicating a strong affinity to the increasing demand for the company's services.
The American Jobs Plan includes $10 billion in mandatory funding in 2022 and $50 billion over five years for grants to improve existing school facilities and construct new public elementary and secondary schools to help students of color and students from low-income families for closing the opportunity gap. One of the major factors this aims to address is the risk of poor healthcare facilities.
Full-Service Community Schools (FSCS) program acts in partnership with community-based organizations, non-profit organizations, or other public and private entities to provide students with academic, social, and health services. The Education Department has recently announced its largest-ever $68 million grant for FY 2022, with President Biden requesting a phenomenal increase in the budget to $468 million for FY 2023.
The significant surge in the American Job Plan grant and FSCS funding compared to the previous years leads to many new business opportunities in the healthcare industry, with RCMT as a primary beneficiary.
The Engineering Segment
RCMT's services include analysis, design, drafting, and field services of mechanical, chemical, environmental, aeronautical, architectural, civil/structural, electrical, and electronic engineering, with a strong emphasis on acquiring government contracts.
These services are also offered to the power generation industry, including nuclear energy, fossil fuel, and a customized mix of alternative and renewable power generation.
To achieve net-zero carbon emissions by 2050, President Biden's Budget for the Fiscal Year 2022 specifies the Department of Energy Budget, specifically focusing on creating the essential RDD of critical energy technologies to address the climate catastrophe.
The Office of Energy Efficiency and Renewable Energy has requested $4.7 billion, including $300 million in grants to work with state and local governments to advance clean energy initiatives and $1 billion in new funding to deploy clean energy technologies that can provide affordable, pollution-free energy to more people.
Additionally, the government aims to spend $2 trillion on infrastructure improvements over the decade, including:
$115 billion to repair and rebuild bridges, highways, and roads;
$100 billion to expand high-speed broadband across the entire country;
$100 billion to upgrade and build new schools;
and $100 billion to expand and improve power lines and spur a shift to clean energy.
This will have a beneficial trickle-down effect on the economy, especially benefitting the firms like RCMT, directly involved in these infrastructure modifications.
Apart from the well-established opportunities in the conventional energy sectors, this creates a significant opportunity for RCMT to expand its engineering operations in the renewable power sector, resulting in the company developing sustainable revenue streams.
Low Cap Cyclical Stock and Recession
Following a conventional chain of thought, one might be inclined to think that low-cap stocks would underperform large-cap stocks during recessions. Still, low-caps are precedented to outperform large-caps during recessions, high inflation, and rising interest rates. Historically, the first half of a recession is a prime moment to invest in low-cap stocks as their underperformance during this time, in line with the falling GDP, makes them much cheaper and attractively valued.
Small cap companies are more exposed to default and cyclical risks because of relatively higher leverage and shorter maturities, leading to investors prioritizing investing in highly liquid and safer stocks, i-e large caps. As a potentially stronger economy starts appearing on the horizon, investors tend to take on greater risk for a higher return, leading to increased investments in small-cap stocks. With a GDP rebound, small caps start outperforming large-cap stocks.
According to data compiled by Anchor Capital Advisors, small caps have lagged for the first 5 to 6 months of the last 10 recessions. Small caps tend to outperform in the second half of a recession, with significant outperformance one year after the recession ends.
Valuation
RCMT has a good P/E ratio compared to its peers, with a TTM multiple of 12x, especially considering the small market cap of $178.4 million. Some companies in other professional research and consultation industries include the Mistras Group (MG), a $186.6 million company with a P/E of 48.7x, and Where Food Comes From, Inc. (WFCF), a $68.7 million company with a P.E of 30.87x.
The sector medians of a TTM P/E ratio of 19.5x and a forward P/E ratio of 18.29x are also meaningfully higher than RCMT's P/E ratios of 12x and 9x, pushing me to see the undervaluation in a stock with an over 60% YoY growth.
This P/E also shows a good value compared to the professional services industry in the US, with the average P/E of other professional companies like ManpowerGroup Inc. (MAN), Korn Ferry (KFY), TrueBlue, Inc. (TBI), DLH Holdings Corp. (DLHC), BGSF, Inc. (BGSF), and Kelly Services, Inc. (KELYA) being around 18.4x.
RCMT's sales and cash flow also show an upside potential with the P/S and P/CF ratios, with the company trading at a significant discount to the sector medians. Averaging out all the metrics based on sector medians churns out a target price of about $31 per share, which is comparatively higher than the targeted 1-year analyst forecast of $24.5 and exposes a potential upside of about 67%.
However, all these factors rely on the macroeconomic circumstances to remain consistent, and given the current economic environment, that seems unlikely. So the upside potential only appears realizable for investors looking toward a long-term horizon because the short term will likely have significant volatility.
Conclusion
The company's operations in the MRQ show seasonal fluctuations as most of its customers are preparing their budgets, especially in the Engineering and LS&IT sectors, with Specialty healthcare operations exhibiting an operational dip in summers, when the company's major clients, schools, are closed.
The company endured adverse impacts in the previous fiscal years (2020 & 2021), especially in the Engineering and LS&IT segments. Still, these segments can achieve impressive growth if the company can properly leverage the growing renewables and alternative energy markets and the aggressive demand for LS&IT services created by the pandemic. This post-pandemic world has also created a huge market demand for improved healthcare facilities, which are the company's forte.
Even though new variant outbreaks and any other uncertainties can cause its major clients, schools, to operate online again, causing a detrimental effect on the company's financials, the prevailing sentiments appear optimistic.
It's been an ideal period for investors: A climate of fear is their best friend. Those who invest only when commentators are upbeat end up paying a heavy price for meaningless reassurance. In the end, what counts in investing is what you pay for a business – through the purchase of a small piece of it in the stock market – and what that business earns in the succeeding decade or two. Berkshire Hathaway